This picture was of the widow Teedee at our first house in Liberia, after they repatriated.
Liberia
In Liberia, the devastation is beyond imagination. After a 14 year war in that country it has taken its toll.
but we are seeing progress in everything, it is slow but it is moving forward to rebuild its infrastructure.

There has been no work and homes are destroyed. There is lack of employment and basic needs like food and water. All the needs are multiplied 10 times in Liberia. but is is improving with the new President, she is slowly making headway but now a new election is coming up, we do not know what the outcome will be, but are praying for no violence .

There are so many street children over 30,000 that are homeless or out in the street trying to make it on their own, after being pushed out by family members because the food is lacking for the whole family, many with no parents at all.
There is a serious malnutrition crises in Monrovia, thousands fled the rural areas during the war, and now the city is not able to accommodate them all, and any lack of food or disease will plunge them into malnutrition.
With the global food and fuel prices have nearly doubled the price of rice, and thousands of children are at risk.
Schools

One of the saddest situations in Liberia is that most of the schools in the rural area have been destroyed, so the children are not being educated in the rural areas. This is a tragedy. One of our goals is to begin to get help in some way to rebuild schools and finding people who would teach these children, not only secular education but to teach them the word of God and that Yeshua Jesus will bring them hope.
Children were particularly victimized by the civil disturbances. An estimated 50,000 children were killed; of those wounded, orphaned, or abandoned, many witnessed terrible atrocities or committed atrocities themselves. Twenty-one percent 10,036 of the combatants who disarmed under the provision of the peace agreement?were child soldiers under the age of 17. As education and nurturing were almost completely disrupted, many children suffered post traumatic stress disorder syndrome. It is estimated that 1.4 million children experienced violence, hunger, and homelessness during the war.

Children in the streets have to do manual labor to survive many girls turn to prostitution, many young boys and girls join rebels to become child soldiers in other countries just to survive. Those that returned after the 14 year war ended, returned to families and society that rejected them and they became outcast.

There is an 80% unemployment rate in Liberia, and to even get a job in Liberia you have to know someone in the government. Most businesses are street vendors, and to start one it cost money they do not have.

Children are the future of any country if the children are not educated there is no future, they will be continually under the oppression of dictators and those who want to keep them under their control.We so we want to reach these young people, first with the gospel but we want to be able to provide education and training for those who have no way of earning a living, no way of surviving in the streets.
We want to help those in the villages as well who have never had an education, and most of their schools have been destroyed during the civil war which lasted over 14 years.

OUR BEGINNINGS

Our priority is to give them hope through Jesus Christ, and to help them get an education, we believe feeding and clothing helps them focus better on what the Lord has for them.

Our first goal was to start a school in Monrovia and we outgrew that building, we started one in Paynesville and since moved to a even larger building. There is also great needs for schools in the bush where there is such a great need for schools. Some have to walk as much as 5 miles every day up and back to attend the nearest school.


The widows and their children and those we were helping in Ghana are now in Liberia, have repatriated back to Liberia after 14 years in exile as refugees who were fleeing the civil war in their country of Liberia.
They all have a part in our ministry, the widows cook and help with all the children, the young men out teachers, one was a teacher from the city schools, he has served us at Paynesville City, and got saved and has offered his services to be our teacher in a school in the bush we have started. he has three helpers there.
Teachers in Liberia do not even get $50 a month the private schools pay $75 a month so you can see why the people are so poor, the government does not pay for elementary education, only the upper grades so the children rarely get an education, unless parents have a job and few do..
We pay each of our teachers and helpers a wage though it isn't great the Lord has been increasing it.
We hope to put the older young people into training programs by those who will offer their services and trades. We have rented a very large house in Paynesville City to house the widows and children, we have been using it as a school and a soup kitchen to feed the huge number of children living in the streets and also we house 17 orphans and the widows and their children. so we are looking for property to build to off set paying a huge lease every 6 months..
In 2008 We started the school in the house in Paynesville and first we had about 20 students and it has now grown to approximately 100 at this update, it was so packed the first day, and growing each day.
Most children do not have the opportunity to go to school in Liberia as their parents cannot afford the fee's and cost of supplies and uniforms. We got a sewing machine for the widows so eventually they can help make uniforms.

The first house needed a lot of work, but it was home to the three widows and their 8 children but the kids kept coming so we had to move twice to get a place big enough to hold everyone.

This was our very first house and school below.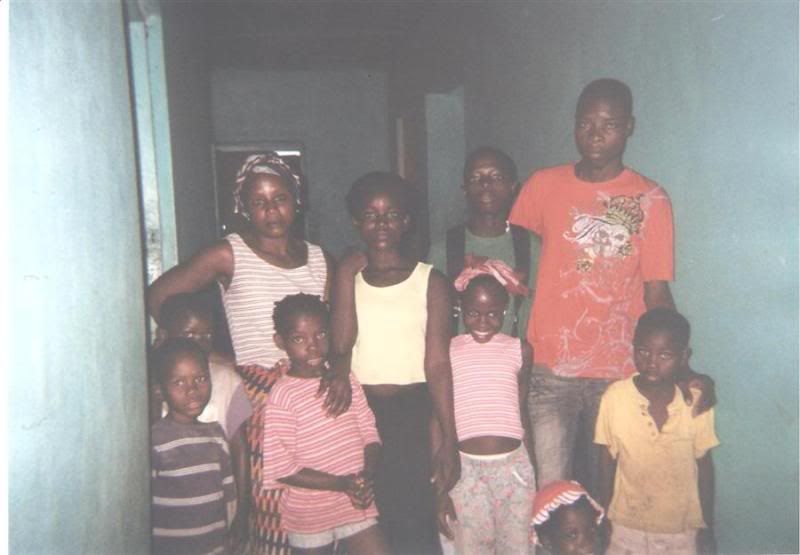 Here is Alita one of the widows with her children and other widows children at our first house.



Widow Tedee, cooking. No stove, no running water or appliances.



Widow Alita and her children



Widow Teedee and her children, Rebecca,Patience,Trokan, and Taddygar.



Widow Aretha and her children


Widow Teedee washing dishes.
Everything is done out of a bucket, to wash dishes, to even bathe and wash clothes. Water must be purchased and is expensive commodity.

New Hope School

In October 2008 we started a school in the widows house, only one of the widows had been to school and non of their children, so we began with them and their 8 children and a few neighborhood kids, and it began to grow and grow. We counted 100+ kids coming from the neighborhood and street children, and I am told each day new kids arrive. The teachers begin singing and the children come running from everywhere.

We had two teachers then, one Paul Baryogar who is employed with the Monrovia schools, he was paid only $50 a month to teach at their school, so he asked for only $25 but as we grew he quit to come to work for us and we increased his p[ay.. He is a great teacher and is a blessing to our ministry.

Chester Morris is our bible teacher, he teaches the kids about the word of God, and how to live for Jesus. He is very valuable to all of us as he is making young disciples. The teacher helpers are Shelton Tarpeh
and Laurance.
They also get older street children to assist with the younger ones.
Read an update from Jesse Cooper our director in Liberia. Here

Below is how we did our very first school, it was held outside.



Paul inside writing lesson. We started with a handful of kids and it just grew! This also was our first house.


Above is Chester and the children watching as Paul puts lesson on blackboard.

Above you see Chester's class reciting lessons. And here we see the widows feeding the children. We feed them every day of school, and this is costly because rice is now $45 a bag. it takes now cost about $400 to feed all the widows their children and the children who come to the school but it has been growing numbers. And the teachers do eat with the children.
Most of these children either eat one meal a day or get nothing if they didn't come to our school and get fed. The Lord showed me to start a farm to grow rice, plantains and cassava leaves which is one of the Liberian staples. This will feed all the kids, widows and workers on the farm.

The Farm

In 2008

My sons Jesse, and Cyrus, and my daughter Julia went to the land where we started our farm, and negotiated a deal for the farm and house, the land for farm was larger then a soccer field.
When the farm began, we had 15 workers who cleared everything out and burn it for the start of the farm, all they told us they wanted when they are done is two bags of rice and fish, and a few of the young ones who will help want soccer jerseys and a soccer ball. In Liberia it is called football.

Jesse began to bring things to the people in the bush, and came with another brother from their church and has begun to preach the gospel in the villages. Eighteen people have given their life to the Lord, and they have started devotions.
We rented the farm for one year, and the Lord prompted us to begin to look for land for the school in Paynsville city but have not yet acquired land, and since then a church in the bush has opened up their building for us to start a school for there children in the bush.
Above is the family of Weamongar Dogar, who is the owner of the property, along with his son Josiah..

Above you see the people with their new lanterns Jesse brought them, they have no light so when darkness comes they get tired and ready to go to sleep.
Middle picture Josiah is showing the land we shall lease and what needs to be cleared out. This is how the land is in Liberia, it is very rich soil so everything grows wild.
The bottom picture is the villagers taking their produce to market from their farms.




Here Jesse is giving out candy and crackers to the children. And below is Jesse and his friend from church preaching the gospel
Once the farm gets started they will be going to a new village there in the bush with the gospel.



Here they are giving out gifts they bought for the people, my son is giving a woman a bucket they brought. the children received some sandals or as they call them slippers



This picture above is Jesse doing devotions, and my daughter Julia is in blue dress. Middle picture is the house. Below they are doing something with wax.

One of our friends home group put $225 together to buy a huge bag of new clothes for the children at the school and what is left will go to the kids in these pictures at the village near our farm, and we sent them money to have a Christmas feast, with things to be given to the children. many run around naked as you will see when you click on the pictures to make them larger.

We have since been paying a video photographer and getting videos every six months but don't know how to put tyhat type on the internet.
If you would like to be a part of this vision contact me. Click the name. Gift of Love World Outreach.
There are so many ways you can help, it doesn't take much we don't ask for money but we do not refuse it from a heart God has touched.
The Lord has taken what little we can send and He has multiplied it like the fishes and loaves.

You can sponsor a child every month for $20 or more, we are building a sponsor website which we will post once we get pictures of each child, you can donate to our school to help us enable more children to get an education, or to help us to feed and cloth the children we are helping.
Or you can also donate toward the buying the land and building of a school, and dorms 1st in Paynsville City we are also in need of an old school bus or some other kind of vehicle to hold many people. We also need a motor bike as Jesse must go back and forth to the bush in a taxi, and it is a 40 minute ride over bumpy roads each time anyone has to go there and back.
We hope that we can make a difference in these peoples lives the school will go a long way to make these people self sufficient and to give jobs to those who have no means of lively hood.

Jesse is going to school to study agriculture he got a scholarship 1 out of 100 got it, and he is teaching the people in the bush better farming practices.

We are not 5-1C, we do not believe in giving the government so much control over our lives, and because of that not many want to contribute but God has supplied all our needs and every vision He has given me He has fulfilled
.
Our core funds come through a few friends who have come along side of me with a heart for the all the children including the orphans and the widows. These are dedicated people from all over, missionaries friends and friends in US.
100% goes right to the needs, we pay for our own fees when we send, and we have been blessed with a young man who directs in Liberia that does nothing but what we tell him to do.
If God puts it on your heart to help us the cheapest way is either by check or by money order, which can be purchased at Walmart very cheaply. The "Love Gift" Page has all the info you will need.
thank you for visiting our site. Please come back and visit. You can become a member and updates will come to you in your email box.
Love, sis shanna
To watch videos below shut music off You can also change songs by clicking on the arrow.